Papa's Sushiria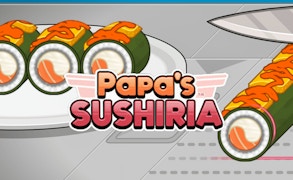 Papa's Sushiria
Sharpen your virtual culinary knives for a unique foray into the world of puzzle-based strategy games with Papa's Sushiria. A captivating contribution to the cooking-games and restaurant-games genres, this flash-based adventure stifles your hunger with a tantalizing journey into the sushi-making universe.
The game starts with an unexpected twist - shattering Papa Louie's lucky cat statue. Underpinning the narrative drama is a life lesson about turning misfortunes into stepping stones. This stroke of bad luck sets you off on a quest of culinary redemption that not only puts your strategic skills to the test but also challenges your crisis management abilities, making it an exhilarating addition to management-games.
In Papa's Sushiria, every sushi roll is a masterpiece in the making. Mastering the "Sushi Square" workflow, you'll find yourself expertly cooking, seasoning, and spreading rice like a seasoned sushi chef. Stuffing, rolling, and topping off your sushi with an array of new ingredients serves up tangible thrills, akin to cracking a difficult puzzle. Aesthetics play their part as well; each morsel must be cut perfectly to satiate your customers' desire for visually appealing fare.
Keeping current with popular food culture trends, Papa's Sushiria incorporates bubble tea into its gameplay. Crafting these flavoured teas adds another layer of complexity and fun to the experience. And don't forget about achieving customer delight through shrewd marketing strategies like coupons - all playing perfectly into adding depth to your gaming journey in this installment of papa-s-games.
In essence, Papa's Sushiria is a delectable mix of challenge and charm, served on the platter of flash-games. It tests your strategic acumen, dares you to manage chaos, and tasks you with perfecting the art of sushi-making. A must-try for all fans of food-themed strategy gaming.
What are the best online games?