Papa's Pastaria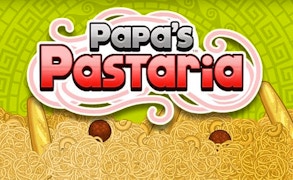 Papa's Pastaria
Description
In Papa's Pastaria, you get the chance to run your very own pasta restaurant in Portallini. As a manager, you take orders, cook various types of pasta, and serve customers with different preferences. It's all about keeping your patrons happy and earning tips! The game beautifully simulates the hustle and bustle of managing a busy restaurant.
How to Play
The game is mouse-controlled. To play, click on the order station when customers come in. Then, prepare their order at the cook station, and finally serve them at the build station. Remember to closely match their order to earn maximum tips. Progress is marked by upgrading menu items and decorations for your restaurant.
Tips and Tricks
Time management is key in Papa's Pastaria. Serve customers in the order they arrive to avoid any dissatisfaction. Also, pay attention to cooking times. Overcooked or undercooked pasta can lead to unhappy customers and fewer tips!
Features
Engaging Gameplay: Fast-paced management simulation with a cooking twist.
Creative Control: Upgrade your menu items and restaurant décor for a personalized experience.
Diverse Customers: Deal with an array of customers with unique pasta preferences.
Progressive Levels: The game gets progressively challenging as you advance to higher levels.
What are the best online games?