Papa's Hot Doggeria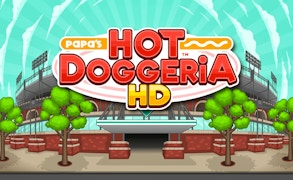 Papa's Hot Doggeria
Description
Enter a bustling, grill sizzling world in Papa's Hot Doggeria! Your culinary skills are put to the test as you man a lively hot dog stand in a busy baseball stadium. Each hungry customer demands customized hot dogs, garnished with a unique blend of toppings. Time management, precision cooking, and customer service are key to your success!
How to Play
The mouse will be your main tool in this game. Use it to take orders, cook and build hot dogs according to each customer's tastes, and serve it to them. Each happy customer increases your tips, which you can use for upgrades. Progress through game levels by meeting daily earnings goals.
Tips and Tricks
Customer satisfaction is key in Papa's Hot Doggeria. Multitask effectively by taking new orders while cooking or building hot dogs. Remember, each customer has unique preferences - perfecting your memory skills will give you an edge!
Features
Vibrant graphics for an engaging gaming experience.
A variety of ingredients and toppings for endless culinary combinations.
In-game upgrades to enhance your hot dog stand.
A robust leveling system that rewards effective management.
What are the best online games?