Ouija Voices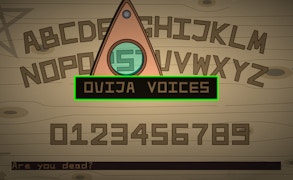 Ouija Voices
Description
Delve into the eerie world of Ouija Voices. This thrilling adventure game revolves around the mystical and enigmatic Ouija board. As you play, you'll confront a series of unsettling spirit messages and spine-chilling trivia, testing your courage and knowledge. If you're into parapsychology or just an adrenaline junkie seeking a thrill, this is the perfect game for you.
How to play
Playing Ouija Voices is quite simple yet tantalisingly terrifying. Use your mouse or touchscreen to move the planchette across the ouija board. Answer trivia questions correctly to progress and delve deeper into the spiritual realm. Be careful though, these spirits aren't always kind, especially if you answer incorrectly.
Tips and Tricks
Stay alert at all times! You never know what might pop out in Ouija Voices. Make sure to use logical thinking when confronted with trivia questions - some answers may be misleading. Keep calm amidst the fear, as panic can lead to hasty and incorrect solutions.
Features
Terrifying gameplay that constantly keeps you on edge
A variety of challenging trivia questions that test your knowledge and logic skills
An immersive spiritual realm that will send shivers down your spine
A chance to experience first hand, the mysteries and terror of a ouija board without any real-world repercussions
What are the best online games?