Mate in One Move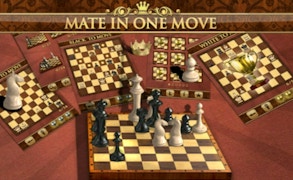 Mate in One Move
Unleash your inner grandmaster with Mate in One Move - a thrilling ride into the world of chess puzzles that is more than just one of the standard checkers games or chess games you've encountered. This is not just a game, but a cerebral workout that demands cunning, strategic forethought and an agile mind. It's time to test your mettle in these engaging brain games.
The game encompasses the entire gambit of chess pieces, from lone rooks to bishop pairs to two queens. Each piece constructs a unique tango on the 64 square dance floor. Here, your partner is not an adversary who can be cajoled or bluffed into submitting - but a computer trained for ruthlessness. In this context, each checkmate puzzle presents its own unique challenges, none too small and none insurmountable.
Whether it's a lone rook manoeuvring for a mate or two knights galloping towards victory; every scenario presents fresh hurdles that demand unique strategies. The game truly embodies the essence of chess - an arena where opponents are separated not by physical prowess or luck but by sheer wit and intelligence.
The need to assist your king with various other pieces as you corner your enemy adds multiple layers of depth to the gameplay. No longer are pawns just sacrificial lambs on the altar of progress; they can become potent weapons ascending towards glory alongside bishops and knights.
In conclusion, Mate in One Move stands head and shoulders above the crowd of typical checkers games or chess games as a definitive brain game experience. The diverse array of scenarios and challenges it presents makes it an unparalleled mental workout that should not be missed by any fans of intellectually stimulating gaming experiences.
What are the best online games?