Checkers Classic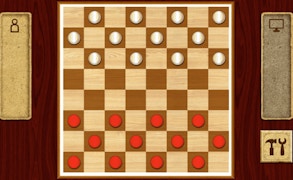 Checkers Classic
Settle in for a battle of wits and strategy with Checkers Classic, an entrancing addition to the realm of 2 player games. This immersive brain-stimulating board game transports you to the timeless world of checkers, simultaneously rejuvenating your mind and offering an exhilarating gaming experience.
Checkers Classic is more than just a modern rendition of one of the oldest checkers games. It's a fusion of traditional gaming charm and intelligent design. The goal to capture all your opponent's pieces remains the same, but additional layers of difficulty have been skilfully woven in, turning it into a relentless test of strategy and foresight.
The highest difficulty level is truly where the magic happens. It's not merely about playing; it's about devising a winning game plan, predicting your opponent's every move, and always staying one step ahead. It is here that Checkers Classic sets itself apart from other 2 player games - it demands intellectual rigour, promotes cognitive flexibility, and rewards strategic prowess.
Graphically, Checkers Classic strikes an excellent balance between simplicity and visual appeal. The design is light on the eyes yet compelling enough to keep you hooked for hours on end.
To conclude this review, let me tell you that Checkers Classic is a sublime blend of entertainment and mental agility training. Its deceptively simple gameplay belies its depth - it keeps you coming back for more: more challenges, more victories, more strategies to devise. For lovers of strategy games, or those simply seeking an enjoyable way to exercise their minds, this classic checkers game is a worthy contender for your time.
In the extensive galaxy of 2 player games, Checkers Classic, with its seamless marriage of tradition and innovation stands as an undeniable star.
What are the best online games?