Only Up!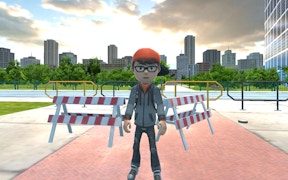 Only Up!
Welcome to Only Up!, a ground-breaking action game that will test your agility and the limits of your imagination. As part of the fast-paced running-games and skill-games genres, Only Up! is not just a standard parkour simulator, it's a vibrant, gravity-defying platform that takes you on an exhilarating journey like no other.
The game flawlessly integrates the thrill of parkour with competitive ONLINE MULTIPLAYER action, offering an immersive gaming experience that is as intense as it is entertaining. Each move you make transforms into an awe-inspiring display of agility and prowess, keeping you on edge throughout.
The true beauty of Only Up! lies in its seamless combination of action and skill into its gameplay mechanics. The challenge escalates as you strive to perfect your timing and precision, ensuring every jump and sprint contributes to your victory.
This isn't your average run-of-the-mill parkour game. Only Up! propels you into a world where gravity is merely a suggestion and every leap takes you closer towards defying physics. The running-games genre has never seen anything quite like this before.
If you're seeking a game that truly tests your reflexes and simultaneously provides a heart-stopping thrill ride, then Only Up! is precisely what you've been searching for. So get ready gamers, for it's time to venture into the unprecedented world of Online Multiplayer Parkour.
This action-packed leap into the world of gravity defiance redefines what running-games can be. It's time to take your gaming skills to new heights with Only Up! – the ultimate test in action-packed running skill games!
What are the best online games?