Nugget Seeker Adventure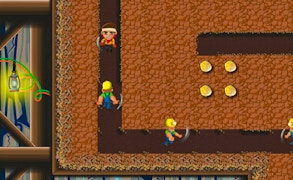 Nugget Seeker Adventure
Immerse yourself in the gritty, adrenaline-fueled world of Nugget Seeker Adventure, a trailblazing addition to the realm of action-packed mining games. This HTML5 Arcade Game guides you into a subterranean maze filled with gleaming gold nuggets and lurking dangers, offering an unparalleled gaming experience that combines elements of escape games with a thrilling adventure narrative.
In Nugget Seeker Adventure, you're not just another faceless miner. You're a fearless digger, boldly navigating through intricate underground tunnels, constantly on the alert for menacing bullies. As you journey deeper into the earth, the stakes get higher. You're in a race against time and danger to gather as many golden nuggets as you can before your luck runs out.
While the game's core mechanics are deceptively simple, don't let that fool you. Each level ramps up the challenge, requiring quick reflexes and strategic planning as you plot your escape routes. Whether you're an experienced gamer looking for your next challenge or a newcomer ready to dive into the exciting world of action games, Nugget Seeker Adventure promises to keep you on the edge of your seat.
A testament to its brilliance is how seamlessly it integrates heart-pounding action with strategic gameplay – all housed within retro-styled graphics that will hit you right with nostalgia. But it's not all about looking back; Nugget Seeker Adventure has its sights firmly set on redefining what makes an impactful and engaging action mining game.
In conclusion, Nugget Seeker Adventure offers an enthralling fusion of escape and mining genres wrapped in an action-packed package. The relentless pace keeps your pulse racing while its clever level design ensures every moment is infused with tension and excitement. If action-packed mining adventures are your cup of tea, Nugget Seeker Adventure is one game you cannot afford to miss!
What are the best online games?
Tags