Noob vs Pro vs Stickman Jailbreak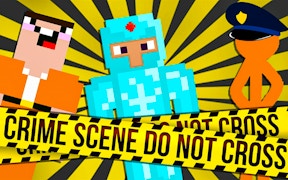 Noob vs Pro vs Stickman Jailbreak
Enter the world of Noob vs Pro vs Stickman Jailbreak, a riveting action-packed blend of pixel games, escape games, and stickman games. This game presents an intense cocktail of adrenaline and strategy as you embody a crimer, on an exciting quest to dodge the law and break free from prison.
The narrative begins with you in the form of the iconic stickman, incarcerated in a highly guarded prison. Your mission is not just to escape this fortification but also outwit some of the most formidable adversaries. The unique amalgamation of gangster games and police games provides an unmatched edge to your gaming experience.
The creative fusion of car games and driving games elements infuses an extra thrill into your jailbreak journey. Tearing through prison walls, you will navigate through tough terrains in menacing vehicles evading relentless police chases - turning this game into an electrifying pursuit.
The game levels, layered with strange _jailbreak_ challenges are designed to test your skills as a gamer. Each level demands meticulous planning, deft precision, and impeccable timing - making Noob vs Pro vs Stickman Jailbreak a compelling entry in the realm of Skill Games.
The epic showdowns with enemy stickmen are sure to ignite your fighting spirit as they defy conventional boundaries set by typical gun games. The heart-pounding action sequences punctuated by high-octane escape missions make this game a must-play for every action aficionado out there.
Noob vs Pro vs Stickman Jailbreak is not just about escapades and escapes - it's about establishing dominance in a world that wants you confined, it's about claiming your freedom on your own terms. So gear up for this thrilling ride in the harsh world of sticks and pixels.
What are the best online games?