Noob Vs Pro 4: Lucky Block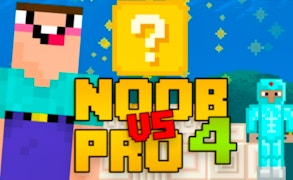 Noob Vs Pro 4: Lucky Block
Enter the vivid, action-packed world of Noob Vs Pro 4: Lucky Block, a riveting addition to the realm of pixel games. An amalgamation of fierce battle games, thrilling zombie games, and strategic Minecraft Games, Noob Vs Pro 4 offers an immersive experience that is both captivating and exhilarating.
Dive head-first into the blocky world, reminiscent of your favourite block games but with a twist. In Noob Vs Pro, you navigate through a narrative enriched with unexpected surprises at every turn. Play as either Noob or Pro, on a relentless quest for the coveted Lucky Block stolen by the malicious Hacker.
In this adrenaline-fueled race against time, you're tasked with completing deadly trials, braving treacherous traps while riding atop a pig. The reward? The chance to descend to the depths of the secret Mine and reclaim the cherished Lucky Block, adding an engaging layer of intrigue to this dynamic sword game.
Noob Vs Pro 4 stands out from other pixelated battle arenas not just for its innovative gameplay but also its humorous undertones. Find comic relief in Noob's hilarious antics amidst moments of intense gameplay.
Experience an exciting adventure where you're not just a player but a hero in your own right. Enjoy unrestricted access as you open hellish Lucky Blocks for free! This unique twist ensures riveting gameplay that keeps you on your toes. So gear up, brace yourself for epic battles and laugh-out-loud moments as you step into the enthralling world of Noob Vs Pro 4: Lucky Block! Don't just play the game; live it!
What are the best online games?