Noob Super Agent vs Robots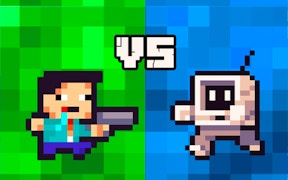 Noob Super Agent vs Robots
Enter the world of pixelated adventure with Noob Super Agent vs Robots, one of the latest additions to the realm of exciting pixel games that beautifully merges elements from gun games, robot games, and the beloved Minecraft Games. The unique combination makes it stand out in a genre full of battle games.
Taking on the role of a fearless Noob, an undercover agent often thrust into precarious situations, players are tasked with transforming this perceived amateur into a pro. The plot is far from ordinary; it's you against a horde of menacing robots in an adrenaline-fueled showdown.
In the pixelated world reminiscent of Minecraft Games, players are equipped with an assortment of weapons and explosives. The game demands tactical ingenuity as you collect ammo, neutralize robot guards, hack computers using USB devices, and destroy routers to progress through levels. It's not your typical run-and-gun scenario; strategy plays a paramount role here.
The highlight is the element of surprise in levels that require the use of dynamite for progression. It introduces an extra layer to gameplay that keeps players on their toes. Not just focused on combat, Noob Super Agent vs Robots also encourages exploration and resourcefulness, quintessential traits in successful battle games.
All considered; this game breaks away from stereotypical robot games. It's more than a player-vs-robot brawl; it's an immersive journey where you morph an underdog into a superhero. Although the title suggests that our protagonist is a noob, we are given every opportunity to prove otherwise - showing us that even noobs can conquer complex challenges and emerge victorious!
Your mission, should you choose to accept it, is to be ready for action-packed pixel adventure against robots. Remember: Every Noob has what it takes to become Pro!
What are the best online games?