Noob Skyblock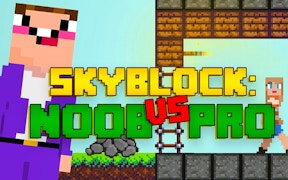 Noob Skyblock
Step into the magnificent world of Noob Skyblock, where pixels and adventure coalesce into a captivating gaming experience. This exceptional entry in the genre of pixel games transcends the ordinary, offering a unique blend of block-based survival games that resonates strongly with fans of titles such as Minecraft Games.
In Noob Skyblock, you're marooned on a quaint flying island, sourced straight from your wildest imagination. Your mission? Harness your creativity to survive and thrive in this 2D cube game that takes building games to new heights. Lay claim to your airborne territory and forge ahead in this pixel painted journey with each crafted block.
Noob Skyblock
empowers you to shape your own destiny. You
build your home and island by crafting
, using alluring pixel blocks at your disposal. Populated with various types of blocks, the game gives you the freedom to design and decorate your cuboid domain exactly how you envision it.
Remember, survival is at the heart of this mind-expanding game - thus, not only do you construct but also destroy and collect blocks. This constant cycle of destruction and creation adds an extra thrill to the gameplay, reminding us why we love survival games.
Noob Skyblock is an immersive concoction of imagination-expanding creativity dished out in generous doses. It's not merely a tribute to favorite classics like Minecraft Games but also carves out its own niche within the genre of pixelated building games. Its core mechanics are simple yet addictive; Craft your way to survival while dancing on a floating island amidst the sky.
In conclusion, if you're scouting for block games that fuses robust mechanics with quirky aesthetics, Noob Skyblock undeniably deserves a spot on your gaming list. Its unique blending of crafting and survival certainly marks it out as a must-play title within the realm of pixel games.
What are the best online games?