Noob Mineblox Hunt Skibidi Toilet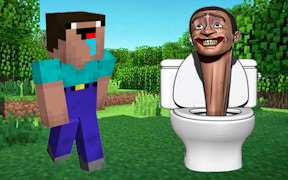 Noob Mineblox Hunt Skibidi Toilet
Description
In Noob Mineblox Hunt Skibidi Toilet, you become a sneaky Noob Mineblox, battling through various levels filled with the dangerous Skibidi Toilet obstacles. The game's unique design combines action and stealth elements, providing thrilling excitement as you try to outmaneuver your enemies. You must carefully navigate through each level, all distinctly designed to challenge your abilities and strategic planning.
How to play
To master this game, you need to effectively utilize your stealth skills to overcome Skibidi Toilet enemies without getting caught. Use your keyboard to control the Noob Mineblox character, and spacebar for actions. Progress through each level by understanding enemy patterns and finding the best path around them. The game increases in complexity as you go further, introducing new challenges and requiring more careful strategies.
Tips and Tricks
Always study the layout of each level before moving on. Understand where your enemies are located and plan your moves carefully. Be patient and wait for the right time to make a move against the Skibidi Toilets. Remember, rushing can often lead to capture!
Features
Unique stealth-action gameplay with 2.5D platformer elements.
Intricate enemy AI that keeps every level exciting and unpredictable.
Individually designed maps that provide a fresh challenge with each new level.
Cool game environment that adds an extra layer of suspense and fun.
What are the best online games?