Noob Escape 3D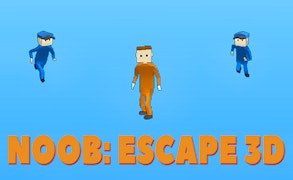 Noob Escape 3D
Description
Noob Escape 3D is an exhilarating adventure game that tests your agility and quick thinking. You'll navigate through 30 intricate levels, each filled with perilous traps and relentless pursuers. Your mission? Survive and escape. With its stunning pixelated graphics, the game elevates the classic escape genre to a whole new dimension. Breathtaking suspense, adrenaline pumping action - Noob Escape 3D offers all this and more.
How to play
To play Noob Escape 3D successfully, you need both fast fingers and a keen eye. Use your keyboard arrows or WASD keys to guide your character around deadly obstacles, while avoiding the ever-watchful pursuers. Your path to progress lies in skilful manoeuvring and well-timed leaps, escapes, and turns.
Tips and Tricks
Beware of your surroundings in every level, as new traps can appear without warning. Learn from each failed attempt; repetition will help build the perfect escape plan. Use misdirection and speed to evade your pursuers - they are relentless but not infallible.
Features
Packed with 30 diverse levels for non-stop action
Elegant Pixelated Graphics for retro-style gaming experience
Intricate traps that require quick reflexes and clever thinking to overcome
Fierce pursuers testing your evasion skills to the limit
What are the best online games?