Ninja Rian Adventure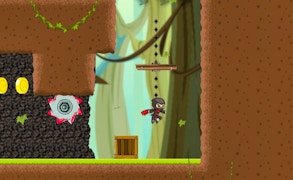 Ninja Rian Adventure
Step into the captivating world of Ninja Rian Adventure, a game that seamlessly blends ninja games, skill games, monster games, and sword games into one exhilarating adventure package. This masterpiece thrills every gaming enthusiast with its immersive storyline, stunning visuals, and heart-pounding action. It's a unique hybrid that taps into the adrenaline-fueled rush of adventure gaming while testing your gaming skills to the limit.
In Ninja Rian Adventure, players are tasked with an epic quest to rescue a kidnapped princess from the clutches of the malevolent Dracula. Your journey will see you battling relentless enemies and monstrous bosses who aim to halt your progress. Whether you're slaying monsters or dual-wielding swords to outmaneuver your adversaries, every move is an exercise in strategic skill.
But it's not all about brute force. Ninja Rian Adventure encourages mastery in various ninja skills like gliding and jumping and using weapons such as throwing darts or showcasing sword skills. All these elements are beautifully interwoven into the gameplay, providing a rich and varied experience that is as challenging as it is fun.
The game's real triumph is how it goes beyond typical ninja or monster games, offering a deep layer of strategy beneath its adventure-driven surface. It provides players with numerous possibilities, pushing them to think on their feet and adapt their strategies mid-game.
To conclude, Ninja Rian Adventure does not just tick all the boxes for an excellent adventure game; it also provides a fresh take on ninja games, monster games, and sword games. Its twists and turns keep you engaged throughout your journey to rescue the princess, allowing you to experience the true grit of a ninja while honing your gaming skills. Try out this enthralling game today – it's more than just an adventure; it's a test of your mettle!
What are the best online games?