Ninja Hands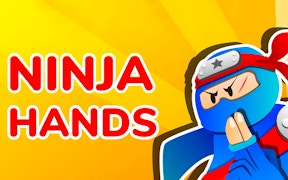 Ninja Hands
Enter the vibrant world of Ninja Hands, the latest sensation in the action genre that effortlessly blends elements of battle games, ninja games, and skill games. This adrenaline-fueled adventure, bursting with high-octane fun, allows you to channel your inner Shinobi like never before.
Weaving an enticing narrative that pits you against nefarious villains in a quest to save damsels, Ninja Hands showcases a plethora of ninja powers at your disposal. Whether decimating enemies with sizzling fireballs, slicing them clean with the legendary samurai sword, or silently eliminating them with deadly shurikens - the power lies within your hands.
The game design flawlessly encapsulates the essence of classic ninja lore while keeping it fresh for contemporary gamers. Its fast-paced action sequences require swift reflexes and strategizing skills that are bound to keep players on their toes.
What truly sets Ninja Hands apart from other ninja games is its detailed characterization and compelling storyline. As you delve deeper into this fantastical world, not merely are you improving your gaming skills but also emotionally investing in your ninja's journey.
To top it all off, the stunning graphics breathe life into the ninja universe, making every kick, every slash, and every fireball more immersive. Every aspect of the game —from its meticulously designed levels to its thrilling boss fights— exemplifies top-tier gaming.
In conclusion, if you're an action aficionado who finds joy in strategic battles and well-orchestrated skill games showcasing rich narratives and riveting gameplay - Ninja Hands is an absolute must! So gear up and immerse yourself in this thrilling odyssey – an unforgettable ninja adventure awaits!
What are the best online games?