Ninja Dogs 2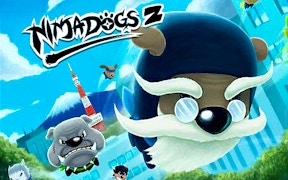 Ninja Dogs 2
Unleash your inner warrior and pounce into the electrifying world of Ninja Dogs 2, a thrilling fusion of animal games, battle games, and ninja games. This action-packed sequel will keep your pulse racing as you embark on an adrenaline-fueled mission to retrieve prized secret scrolls stolen by the formidable Big Evil Yellow Cat.
Get ready to experience four engaging scenes each teeming with a unique story, 45 challenging new levels, and vivid backdrops that will surely immerse you into the intense universe of Ninja Dogs 2. The addition of a fearless Master Dog- a brand new character in the franchise introduces an invigorating dynamic to gameplay, adding another layer of depth that fans will surely appreciate.
In a market saturated with unoriginal animal-inspired titles, Ninja Dogs 2 stands out as one of the most intriguing ninja games. It goes beyond the traditional cutesy aesthetics common in most animal games. Instead, it delivers intense battle sequences, cunning enemies, and brain-teasing puzzles that will test your strategic mettle.
The game's enchanting graphics are seamlessly blended with an enthralling storyline that keeps players hooked from start to finish. Whether you're slinging your ninja dog into combat or strategizing your next move against the conniving Big Evil Yellow Cat, every moment is filled with unrelenting action and excitement.
In conclusion, if you're seeking an exhilarating gaming experience sprinkled with elements of strategy and wit - look no further than Ninja Dogs 2. Combining best-in-class elements from animal games, battle games and ninja games - this standout title deserves a space in every action-loving gamer's collection!
What are the best online games?