NERF Epic Pranks!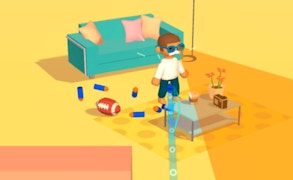 NERF Epic Pranks!
Unleash your inner jester in the imaginative and action-packed world of NERF Epic Pranks! This enthralling addition to the sphere of gun games functions as a toy chest brimming with high-powered NERF weapons, vibrant characters, and quirky skins that's deeply engaging. As one of the most entertaining fun games on the market, it aptly combines exhilarating shooting sequences with light-hearted humor.
In NERF Epic Pranks!, you're not just firing darts aimlessly; you're donning the role of the Joker King, strategizing your pranks, and ambitiously climbing your way to prank royalty. You'll dive headfirst into riveting gameplay, relying on your wit & arsenal to outsmart your foes. Your playfulness will be rewarded with an abundance of unlockables ranging from cool ninja skins to comical clown outfits and futuristic robot models.
The progress in this game mirrors a well-crafted comedy sketch- it starts off simple but as you advance, layers of complexity unfold. With every prank executed perfectly, you'll unlock more characters and skins, adding another dash of flair to your epic mischief-making journey.
In conclusion, NERF Epic Pranks! successfully marries fun with firearms in a playful environment that's both stress-busting and adrenaline-pumping. If you're looking for an intriguing twist on shooting games, then this game will serve as a breath of fresh air in your gaming library. So gear up for some hardcore fun because it's 'prank time'!
What are the best online games?