NartG Draw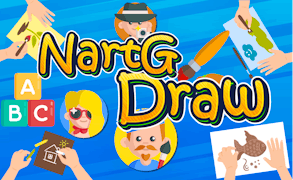 NartG Draw
Description
NartG Draw is an exciting online multiplayer game that provides a platform to showcase your creativity while testing your guessing skills. The thrilling gameplay involves one player sketching a particular word while the rest strive to guess it swiftly. Teeming with thousands of players globally, the game promises dynamic interaction and immense fun.
How to play
The game operates with the help of your device's touch screen or mouse. One player is randomly selected to draw an assigned word; others must identify this word based on the sketch. The faster you guess, the higher the score. Your rank improves as you accumulate points.
Tips and Tricks
We recommend familiarizing yourself with different sketching styles. Broaden your vocabulary as well since the words come from various topics. Be quick in guessing but also ensure to pay attention to each stroke, as they may hold crucial hints.
Features
Global Interaction: Play alongside thousands of players worldwide.
Creativity and Wit: A platform for showcasing drawing skills and word-guessing prowess.
Scoring System: Score increasing based on speed and accuracy of guesses.
Vast Vocabulary:The game include words from myriad topics, keeping always fresh and exciting.
What are the best online games?