Mr Bullet Online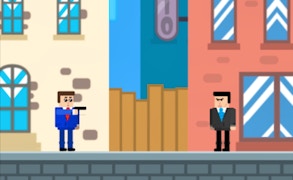 Mr Bullet Online
If you're a fan of shooting and gun games, then you're in for a real treat. Today, I bring to you a review of a game that has been making waves in the skill games community - Mr Bullet Online. This game is more than just about shooting; it's about accuracy, strategic thinking, and of course, the all-important quick reflexes.
From the moment you start playing Mr Bullet Online, it's clear that this is no ordinary shooter game. It cleverly combines elements of puzzle and strategy with traditional shooting mechanics, creating a unique gaming experience that is both challenging and engaging.
The premise of the game is simple yet intriguing: You are a hero, a spy, and possibly even a legend tasked with solving puzzles while eliminating enemies with impeccable precision. Whether you're taking down old grannies turned villains or other unexpected baddies, each level presents its own unique challenge that requires not only sharp shooting skills but also a tactical approach.
This game doesn't just test your aim but also your brain power. Each level brings new obstacles to overcome and enemies to defeat, making it the perfect exercise for those grey cells. Can you take them all down in one shot? That's where the real challenge lies!
As an addition to any gun games collection, Mr Bullet Online stands out for its fresh take on shooting mechanics combined with mind-bending puzzles. It keeps you on your toes and ensures each enemy encounter isn't just about pulling the trigger but involves strategy too.
In conclusion, if you're looking for an exciting blend of shooting and puzzle gameplay, give Mr Bullet Online a try. Once you dive into its thrilling world of heroes, spies and legends; strategic gameplay will never be the same again!
What are the best online games?
TAGS