MotoCross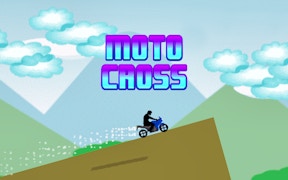 MotoCross
Unleash your inner daredevil with MotoCross, a thrilling entry in the realm of motorcycle games that has got every gaming enthusiast talking.
MotoCross is not just another addition to the saturated genre of racing games. Rather, it stands as a high-octane revelation, with its adrenaline-rushing gameplay and heart-stopping thrills, grabbing a special spot amongst other dirt bike games.
Dive into the ecstatic world of moto racing where every twist and turn is unpredictable, literally keeping you at the edge of your seat. Right from swerving through rugged terrains, jumping over daunting obstacles, to making that perfect landing - MotoCross guarantees an exhilarating journey like no other.
The game's graphics are nothing less than a visual spectacle. The painstaking attention to detail transports you right into the heart of a motocross track, amplifying your gaming experience multi-fold. The elements of dirt and dust flying off your tires while maneuvering harsh landscapes adds an extra layer of authenticity to this riveting dirt bike game.
Each motorbike is designed meticulously with unique strengths and weaknesses which furthers the strategic depth of every race. The controls are intuitive yet challenging, maintaining the exciting balance between skill and thrill.
Sure to please even the most discerning gamer, MotoCross raises the bar for motorcycle games by seamlessly blending fast-paced moto racing action with stunning visuals and compelling gameplay mechanics.
In conclusion, MotoCross provides a rewarding deep dive into the cut-throat world of competitive moto racing. It offers a relentless thrill ride offering both casual gamers and hardcore motocross fans a taste of what it's like to race on some of nature's meanest terrains. This is one ride you won't want to miss!
What are the best online games?