Flying Motorbike Real Simulator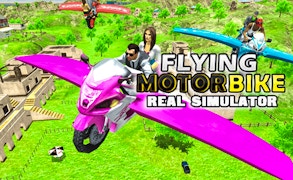 Flying Motorbike Real Simulator
If you're an adrenalized gamer always on the hunt for motorcycle games, dirt bike games, or indeed, flying games, then fasten your seatbelts as Flying Motorbike Real Simulator by Game Tap is the ride of a lifetime.
This is no ordinary driving game. The game thrusts you into a high-octane world where you can choose from an array of high-tech bikes, each capable of transforming into an awe-inspiring winged beast at the press of a button. The magic begins when these heavenly beasts take off into the skies, leaving traffic and terrestrial limits behind.
In Flying Motorbike Real Simulator, you can turn your bike-turned-airplane into a flying taxi, ferrying passengers across the expansive city. Not only will you be enjoying the thrilling ride, but you'll also be providing an exhilarating transportation experience to your passengers in one of the most unique simulator games currently on offer.
The sheer thrill of revving up your motorbike's engine, accelerating to extreme speeds with nitro boosters and then soaring high in the sky makes this one of the best car games. The stunning graphics and detailed open world design only add to the immersive gaming experience.
All said, Flying Motorbike Real Simulator is no run-of-the-mill motorcycle game. It pushes the boundaries and gives gamers a unique blend of motorcycle racing, aerial acrobatics, and taxi service simulation all integrated seamlessly into one game. So gear up and download this free bike game to embark on an exhilarating ride in one of the best flying bike games.
What are the best online games?