Dirt Bike Stunts 3D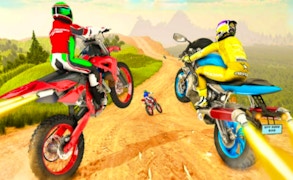 Dirt Bike Stunts 3D
Step into the wild, adrenaline-fueled world of extreme sports with Dirt Bike Stunts 3D, a game that redefines the genre of motorcycle games and takes the thrill of dirt bike games to a whole new dimension.
This off-road extreme motorcycle racing game catapults players into a mountainous terrain, teetering on the edge of towering cliffs and navigating hairpin bends. It's not just about speed – precision and control are key, particularly when drifting around treacherous turns in one of the finest driving games you'll ever experience.
Dirt Bike Stunts 3D, stands out with its ten intriguing levels, each more challenging than the last. Every finished level rewards you with hard-earned cash that can be invested in purchasing brand new motorcycles and exclusive character skins. It's not just cosmetic, however. These upgrades can also boost your performance significantly, providing improved bike brakes and tires for better handling. This adds an element of strategy to this high-octane game as you carefully select your upgrades to suit your style and the challenge ahead.
Dive headlong into this thrilling masterpiece that combines elements of motorcycle games and drifting games seamlessly, delivering an immersive gaming experience that will keep you on your toes! Don't miss out on experiencing one of the most exciting dirt bike games.
Dirt Bike Stunts 3D is not only a game – it's a ticket to an adventure where you control the outcome. Are you ready for the ride? Strap on your helmet, rev up your engine, and immerse yourself in one epic ride!
What are the best online games?