Moto Real Bike Racing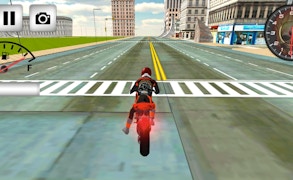 Moto Real Bike Racing
Unleash your need for speed with Moto Real Bike Racing, a high-octane entrant in the world of dirt bike games and motorcycle games. This 3D driving game sets a new standard for the genre, boasting superior gameplay, impressive graphics, and an assortment of amazing features that will leave you spellbound.
This isn't just another run-of-the-mill bike simulator; Moto Real Bike Racing delivers a transformative gaming experience with its dizzying blend of innovation and adrenaline. Feel your pulse race as you rev your engine, dominate diverse terrains, complete thrilling missions, and outmaneuver rivals in addictive multiplayer races.
What sets this game apart is its remarkable realism. From the painstakingly accurate bike physics to the stunningly detailed environments, everything in Moto Real Bike Racing feels incredibly lifelike. The bikes handle spectacularly well, mimicking the nuances of real-world driving. It's a sensory overload that will keep you hooked.
Fans of customization are in for a treat. With multiple bikes to choose from and a myriad of modification options available, you can create your dream machine down to the smallest detail—a feature sure to delight any racing aficionado.
In conclusion, Moto Real Bike Racing is not just one step ahead; it's light years ahead of other motorcycle games on the market. It's a must-have for any racing game enthusiast yearning for an immersive driving game experience. If there's one thing certain about this real bike racing 3D game—it's not just about speed—it's about riding beyond limits and conquering challenges head-on!
So gear up, racers! The ultimate test of skill and speed awaits you in Moto Real Bike Racing.
What are the best online games?