Moto X3M Winter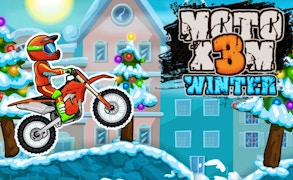 Moto X3M Winter
Get ready, racing game fans, for the winter special of an incredibly thrilling game in the realm of dirt bike games - Moto X3M Winter. This exhilarating entry in the world of motorcycle games and driving games captures the festive spirit by integrating it into a terrain filled with action and adventure. It's not just a game—it's a Christmas miracle on two wheels!
In this high-octane ride, you are invited to traverse through challenging tracks laden with deadly traps, ramps, explosives, and obstacles that will keep your adrenaline pumping. The objective is straightforward yet demanding: make it to the finish line alive! Every twist and turn delivers an unforgettable gaming experience carved into a winter wonderland setting.
The allure of Moto X3M Winter lies not only in its intense action sequences but also in its deep emphasis on technique and speed. The race against time is on! Your speed determines your score—the faster you complete each level, the more stars you earn for unlocking new riders. This creates an addictive gameplay loop that will have you coming back for more.
Apart from a test of speed, each level provides a platform to showcase your stunt prowess. Whether you're performing front or backflips for extra seconds or trying to finish all levels with 3 stars to name yourself a professional X3M rider—every action counts!
In conclusion, Moto X3M Winter stands out amongst Christmas games, combining heart-pounding racing mechanics with joyous holiday elements. A true gaming gem that delivers both thrill and festive cheer—it's time you embark on this electrifying ride!
What are the best online games?