Monster Wheels Apocalypse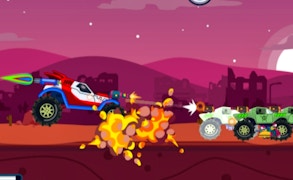 Monster Wheels Apocalypse
Unleash the beast within you in the chaotic and adrenaline fuelled world of Monster Wheels Apocalypse. This action-packed game perfectly blends elements of car games, battle games, and gun games into an electrifying confluence of excitement and thrill. And, oh boy, does it do so with an extraordinary finesse! The alluring cocktail of blazing battlefields and high-speed car chases makes it one of the most riveting survival games available online.
The premise is simple yet packed with intensity. You are thrown into a post-apocalyptic world where roads are patrolled by monster vehicles thirsting for destruction. But fear not, because you're not on foot, you're behind the wheel of your own monster car! Your mission? Wipe out every enemy that dares to block your path - be it vehicles, planes, or foot soldiers.
Mixing elements from war games and truck games, Monster Wheels Apocalypse tests the boundaries of your driving skills while simultaneously challenging your combat abilities. The game offers an amazing arsenal to blow away enemies and a staggering range of upgradeable characteristics for your vehicle. Bolster your shield for added resilience or boost your speed for breathtaking chases- every enhancement propels you closer to dominion over the decimated highways.
In conclusion, Monster Wheels Apocalypse delivers an enthralling gaming experience that will keep you glued to your screens. Its fusion of various genres is a testament to its diversity, extending its appeal beyond boundaries. So brace yourselves for an unforgettable ride into this apocalyptic world where survival is the only law!
What are the best online games?