Monster School Challenge 3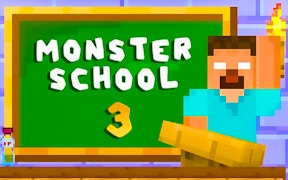 Monster School Challenge 3
If you're a fan of monster games, pixel games, or even Minecraft Games, then the Monster School Challenge 3 should be your next gaming expedition. This game mixes a delightful cocktail of adrenaline rush and endless fun with a tablespoon of skill enhancements, making it not just one of the fun games to play but also one that falls on the list of Skill Games.
The ingenious use of the pixel-art game style embeds you right into an environment that matches up with the Minecraft style. Here, you'll meet Herobrine, the teacher who holds the lantern to light your path in this adventurous journey. You'll get to play as craftman, pigman, noob, pro, girl, zombie among others, each character providing its unique element to this monster school.
Stickman games lovers don't miss out either. Monster School Challenge 3 incorporates aspects of stickman games into its tapestry. The game pulls you into its grip with challenging tasks and missions. It's not just about winning; it's an adventurous journey where you learn different tactics and strategies while having fun.
An essential factor that gives Monster School Challenge 3 its charm is its intriguing narrative and exciting gameplay which keeps players engrossed in this unique combination of monster school and Minecraft genre. There are hilarious moments intertwined with thrilling adventures at each level.
In conclusion, Monster School Challenge 3 is more than just a pixel game; it's an adventure quest that trains your skills while keeping fun at its core. If you love suspense-filled adventure games, engaging gameplay, and vibrant pixel graphics- all bundled into one package- this might just be the pick for your gaming library.
What are the best online games?