Modern Commando Combat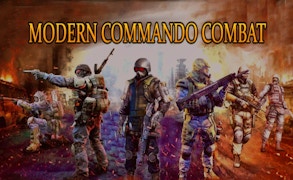 Modern Commando Combat
Immerse yourself in the heart-pounding, explosive world of Modern Commando Combat, one of the premier offerings in gun games, battle games, war games, and sniper games. This game beckons adrenaline junkies and strategic thinkers alike, testing your mettle on the battlegrounds of a ferocious world war.
Modern Commando Combat allows you to step into the combat boots of an elite fps shooter hero tasked with exterminating gangsters and terrorist commandos. Bullet for bullet, you'll navigate intense firefights and unleash devastation upon your adversaries. Exemplify courage by storming into enemy vile with unwavering resolve, unscathed by terror.
The game's controls are intuitive and responsive; WASD or arrow keys for player movement bring a familiar sense of command to seasoned gamers. The M Key pulls up the map, offering a comprehensive overview of the battlefield. The Left Mouse button is your trigger, primed for rapid-fire action. With the X Key at your fingertips, you can effortlessly crouch behind cover, while R Key equips you with an instant ammunition reload to keep your gun blazing.
If you've been on the hunt for gun games that balance raw action with strategic planning, or if war games that require precision are more up your alley - Modern Commando Combat ticks all boxes. Embrace sniper games that demand patience and accuracy? Checkmate! Modern Commando Combat encompasses each exhilarating aspect of battle games in a neatly packaged world war setting.
In conclusion, brace yourself for riveting gameplay marked by high-stakes decision making and pulse-pounding action sequences with Modern Commando Combat. This game is not just a test of skill but also courage under gunfire. Welcome to arguably one the best gun games out there – a truly modern tribute to classic battle games.
What are the best online games?