Missiles Attack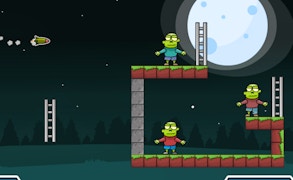 Missiles Attack
Welcome to the heart-stopping, nerve-racking world of Missiles Attack, an enthralling entry in the arena of shooting, gun games. It's more than just a game; it's a vivid theatrical experience that will transport you to another reality, straddling the line between our world and that of digital fantasy.
Straight from the off, the game plunges its players into an adrenaline-fueled extravaganza. Laser-guided missiles zoom past your character, each one increasing your pulse rate. The excitement rises notch by notch as you weave through a hailstorm of missiles and gunfire. A top-tier inclusion to the 'gun games' and 'battle games' categories, Missiles Attack submerges the player into an immersive conflict-filled world.
Zombie games aficionados will find a familiar thrill here as well. Each level escalates into an intense standoff with hordes of missile-launching mechanized undead. Drawing comparisons to other zombie games, the relentless onslaught in Missiles Attack creates an experience akin to holding back a horde of flesh-craving zombies.
The gameplay mechanics are seamless – gunplay and evasive maneuvers integrate seamlessly for intuitive controls that keep players tightly glued to their screens. The guns feel realistic, lending authenticity to this standout among gun games. Moreover, every battle fought adds depth to the narrative—an element often overlooked in other battle games.
In conclusion, Missiles Attack is a superb addition to any gamer's collection who has an appetite for shooting, gun and zombie games and wants that combined with intense battles. It's more than just a game—it's an unforgettable roller coaster ride packed with action, suspense and intense missile attacks.
Don't wait any longer! Jump right in and join the thrilling mayhem that is Missiles Attack—where bullets fly fast and only the quickest survive!
What are the best online games?