MineWarfire Land Defense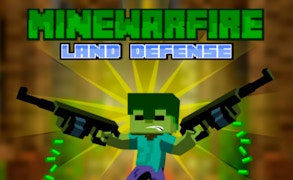 MineWarfire Land Defense
Step into the battlefield brimming with action and test your skills with MineWarfire Land Defense, a thrilling fusion of gun games, battle games, and war games. Bring out the shooter in you and have fun as you deploy strategic defense against an army of minezombies.
An ingenious blend of Minecraft games and zombie games, MineWarfire Land Defense is an online gaming marvel launched on Kukogames.com, where you can play it for free along with countless other exciting titles. The game immerses players into a virtual world designed with Minecraft-inspired aesthetics, but it is not just another pixelated adventure!
What sets this game apart from others in the gun games category is its captivating narrative. It's not just about shooting down your enemies; it's about defending your territory from the ambitious hordes of creepy minezombies that are itching to claim your lands.
Every match in MineWarfire Land Defense feels like a full-fledged war game, making each victory feel rewarding. But beware! The challenge scales up as the zombies increase in numbers and start showing more resilience. This gives additional depth to this already immersive game.
The thrill escalates with each level as the difficulty spikes up, keeping you on your toes. It's a test of your reflexes, strategy and precision shooting skills.
MineWarfire Land Defense isn't just another addition to the plethora of zombie games out there; it's a unique blend that brings together elements from various genres creating an exceptional gaming experience.
To sum it up, MineWarfire Land Defense stands tall among online shooting games. It masterfully combines different elements - the strategic defense used in war games, the adrenaline rush from gun games, eerie vibes synonymous to zombie games and charming aesthetics linked to Minecraft Games - creating an unmatched gaming experience that's well worth playing!
What are the best online games?