Mineblock Rotate and Fly Adventure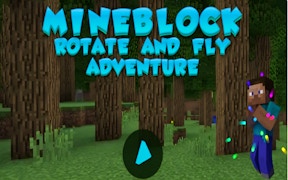 Mineblock Rotate and Fly Adventure
Unleash your inner glider with the addictive arcade adventure, Mineblock Rotate and Fly Adventure. Seamlessly blending elements of clicker games, flying games, and skill games into a hyper casual gaming experience, this online game is a delightful diversion that caters to gamers of all ages.
In the richly pixilated world reminiscent of Minecraft Games, you take on the role of Steve, the intrepid adventurer whose mission is to find his way home. The journey is laden with obstacles and hurdles, demonstrating that homecoming is anything but easy. Rendered in characteristic voxel art style, the game offers an immersive experience as you navigate through rotating platforms and cleverly avoid impediments.
The game mechanics are simple yet captivating; timing your clicks perfectly will have Steve leap adroitly from one spinning platform to another. As the tag suggests, it's a true testament to clicker games requiring sharp reflexes coupled with acute anticipation skills. The platforms are in constant motion with varying speeds and unpredictable turning points making Mineblock Rotate and Fly Adventure a thrilling exercise in patience and precision.
This riveting game features seven levels of increasing challenge and complexity to keep players on their toes. Your reflexes will be tested as you deftly manoeuvre Steve past precarious pitfalls to safety. With intuitive gameplay controls suitable for both beginners and seasoned players, this trip down memory lane is undeniably one of the best Hyper Casual Games on offer.
In conclusion, Mineblock Rotate and Fly Adventure strikes a perfect balance between challenge and entertainment. Its engaging game design combined with straightforward controls makes it an excellent proposal for lovers of flying games. So strap in for an unforgettable ride with Steve in this exhilarating arcade adventure.
What are the best online games?