Slice Rush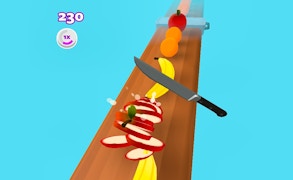 Slice Rush
Step into the fast-paced, culinary world of Slice Rush, an exciting entry in the realm of Hyper Casual Games. As one of the most thrilling sword games on the market, Slice Rush is sure to appeal to any gamer with an appetite for high-speed action and fun.
The very moment you take the digital knife in hand, you'll find yourself fully immersed in a symphony of slicing. The game's mechanics are both straightforward and addictively satisfying. It feels like a blend between Fruit Ninja and Cooking Dash, but with its unique spin that makes it a standout in the fun games category.
While some hyper-casual titles can feel repetitive, Slice Rush keeps things fresh with a steady stream of new ingredients to chop and recipes to master. The graphics are vibrant and engaging, lending the game a friendly and inviting atmosphere that belies its fast-paced, adrenaline-packed gameplay.
The sound design deserves a special mention too - each slice gives off a satisfying crunch that only heightens the immersive kitchen experience. The sound design is so good; it might just kick off your food cravings.
In conclusion, if you're looking for sword games that break from tradition or simply seeking out fun games to fill your spare time, Slice Rush is definitely a title worth considering. Its unique blend of arcade-style action and hyper-casual gameplay make it a dish best served hot.
Slice Rush: Let your inner chef go on an arcade rampage!
What are the best online games?