Tallman Run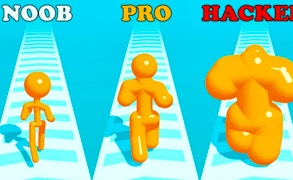 Tallman Run
Welcome to a thrilling world of arcade gaming with the unsurpassed excitement of Tallman Run, a standout in stickman games, and one of the hottest running games currently rocking the market. It's not just another run-of-the-mill title, but a Hyper Casual Game that embeds a uniquely fun and addictive gameplay – an ultimate blend of non-stop action and simple mechanics.
Tallman Run throws you into an exhilarating journey where you are tasked to grow your stickman - either tall or wide, with the single objective of getting as enormous as possible. The captivating essence of this game lies in its simplicity, yet it offers an exciting depth that keeps you wanting for more.
The beauty of Tallman Run is its infusion of lighthearted entertainment with challenging gaming elements. Every run in this hyper-casual game becomes a mad dash for growth, an incredible race against time, making it not only entertaining but also highly engaging. This is a game that truly embodies the essence of arcade gaming.
The controls are smooth and intuitive - no complicated mechanics to learn here, just good old stickman growth fun. Its allure lies in its rich gameplay elements which make it more than a nominal running game. It's engaging, strategic, and most importantly, it's enjoyable to both beginner and veteran gamers alike.
In conclusion, Tallman Run elevates the concept of stickman games by introducing an ingenious growth mechanic to the classic running style. The result is an addictive combination that is both fun and satisfyingly challenging for all types of gamers. Whether you're looking for a quick distraction or seeking your next gaming obsession, Tallman Run has got you covered!
What are the best online games?