Military Shooter Training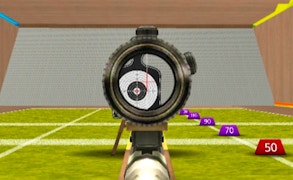 Military Shooter Training
If you're searching for the perfect mix of sniper games, gun games, and Skill Games, your search ends here with Military Shooter Training. A game that seamlessly blends skill and thrill, offering an engaging and addictive gaming experience for both rookies and veterans.
What sets Military Shooter Training apart is its unique combination of sharp-shooting precision and strategic gameplay. This isn't just another shooting game; it's a test of accuracy, patience, and eye-hand coordination. Drenched in realism, each of the 600 Stage Mode levels present a unique challenge that pushes you to sharpen your shooting skills.
Packed with 8 Sections on Time Race and 6 Sections for Battle, the game keeps the adrenaline pumping. The variety doesn't stop there; you can unlock Rifles (5 Standard and 15 Premium), Bullets (5 Standard and 15 Premium), Red Dot (5 Standard and 15 Premium), Gears (2 Standard and 2 Premium). Make your shots count with upgrades such as Wind Effect and Zoom Effect; proving this game is not just about shooting, but also about strategy.
The straightforward gameplay, coupled with stunning design and impressive effects, makes Military Shooter Training more than just a game; it's an intense gaming experience that stays with you. Free to play at your comfort, this game ensures there are no dull moments. So why wait? It's time to get into the heat of action!
In conclusion, Military Shooter Training offers a captivating blend of strategy & accuracy that sets it apart from typical sniper games or gun games. The extensive range of levels & upgrades keeps players engaged, making it an unmissable entry in the realm of Skill Games.
What are the best online games?