Mermaid Princess New Makeup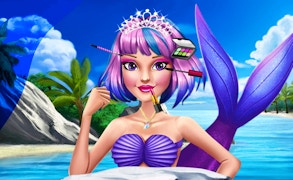 Mermaid Princess New Makeup
Step into a world teeming with seashell castles, talking fishes, and sunken treasures as you explore the enchanting underwater adventure that is Mermaid Princess New Makeup. This game seamlessly weaves together elements of mermaid games and princess games to create a glittering tapestry of fun that will captivate kids everywhere.
As one of the cutting-edge games for girls, Mermaid Princess New Makeup perfectly combines the deep-sea romance inherent in mermaid games with the nobility and grace found in princess games. The game design and graphics are so enchanting, it's like diving into a dazzling underwater kingdom every time you hit play!
A unique blend of makeup games thrown into the mix catapults this game into a league of its own. As the name suggests, Mermaid Princess New Makeup allows players to express their creativity in unique ways. Whether it's playing with aquatic shades of eyeshadow or swapping out seashell tiaras, this game encourages self-expression in a fun and immersive way.
The gameplay is as breezy as a cool ocean current - intuitive and easy to navigate using just your mouse. From selecting makeup palettes to choosing new outfits, the controls make playing not just effortless but also engaging for kids.
In conclusion, Mermaid Princess New Makeup stands out as an innovative addition to both mermaid games and princess games categories. With its crisp graphics, simple controls and engaging blend of makeup play - it reaffirms why these types of games for girls continue to enthral young players around the world. Dive in today for an unforgettable underwater adventure!
What are the best online games?