Mermaid Princess Fashion Day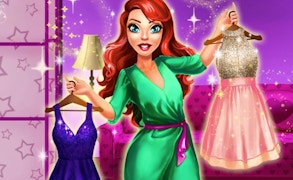 Mermaid Princess Fashion Day
Dive into the mystical underwater world with Mermaid Princess Fashion Day, an enchanting blend of mermaid games and princess games. Specially designed for the young fashionistas at heart, this game is a stellar addition to the realm of fashion games and dress up games that target a predominantly female audience.
The game invites players into an immersive dressing room where they assist the princess in discovering the perfect outfit. The love for clothes and fashion is palpable in this bubbly mermaid princess who is eager to try out distinctive hairstyles and fabulous dresses. The vast sea of options might seem daunting initially, but therein lies the thrill of these magnificent games for girls.
The feature that sets Mermaid Princess Fashion Day apart is its expansive array of fashion choices. From trendy gowns to chic accessories like elegant necklaces and flashy purses, your child's dressing-up skills will be perpetually challenged, honed, and celebrated. It's not merely about dressing up – it's an opportunity to cultivate creativity.
Your task as a sort of fashion guru is to ensure that her majesty impresses everyone in her kingdom, which adds a dash of intrigue to this fun-filled fashion frolic. This concoction of princess magic and mermaid grace in a vibrant fashion setting truly makes Mermaid Princess Fashion Day a must-play game.
In conclusion, Mermaid Princess Fashion Day is more than just an ordinary dress-up game; it's a captivating journey into the depths of royal elegance and underwater style. This gem amongst kids' games certainly sparks inspiration for budding young stylists!
What are the best online games?