Mermaid Princess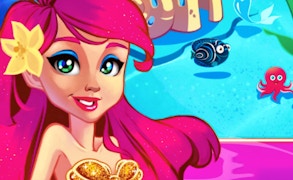 Mermaid Princess
Prepare to dive deep into the enchanting world of mermaid games with the magical underwater adventure, Mermaid Princess. This enthralling installment in Princess Games, specifically designed for our young female gamers, ingeniously merges the thrill of operation games with the fun-filled creativity found in dress up games.
Your journey begins as you explore an ethereal undersea city, home to a radiant mermaid princess. The beguiling narrative, charming graphics and delightful sound effects place Mermaid Princess at the forefront of Games for Girls, capturing their imagination and fostering a love for gaming in safe, wholesome environments.
The gameplay is skillfully divided into levels, providing various exciting challenges. For instance, one moment you could be dressing up your mermaid princess for a royal ball using an array of colorful outfits and accessories while the next moment might see you operating on an injured sea creature. This perfect blend of features from both operation games and dress-up games ensures that boredom is a word alien to our players.
Apart from this, the designers have also incorporated delightful surprises like hidden object games within Mermaid Princess. Scouring through beautifully designed scenes in search of hidden treasures adds an extra dimension to gameplay experience, making it captivating for even older audiences.
In conclusion, if you are on a hunt for high-quality entertainment for your little ones that educate while they entertain; Mermaid Princess is your ideal pick. Purposefully designed as one of those rare Games for Kids that offer wholesome fun and stimulating challenges; it offers both enjoyment and learning in equal measure.
A perfect mix of various game genres such as mermaid games, dress up games and hidden object games; Mermaid Princess truly stands out as a gem among Kids Games.
What are the best online games?