Mermaid Haunted House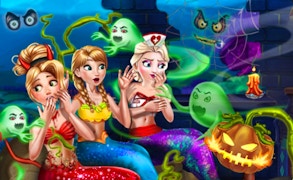 Mermaid Haunted House
Step into an underwater spectacle with the Mermaid Haunted House, a game like no other, brimming with enchanting visuals and captivating gameplay. This creatively designed masterpiece perfectly combines elements of Games for Girls, Princess Games, Mermaid Games and Monster Games, making it a delightful departure from the usual kid-friendly gaming world.
In a fantastical realm beneath the sea, our gallant Mermaid Princesses are throwing an unforgettable Halloween bash. The plot thickens as you take on the role of their trusted advisor, taking charge of Halloween preparations from decorating their underwater abode to dressing them up in spooky costumes. Your mettle as a player is tested as you work to create an environment that scares them just enough but doesn't terrify.
Mermaid Haunted House truly shines with its unique incorporation of magical elements. From reviving wicked pumpkins with enchanted beans to choreographing bursts of thunder and releasing hair-raising ghosts - making this kids game brilliantly entertaining while encouraging creativity and strategic planning.
Beautifully animated and characterized by stunning marine-themed graphics, this virtual domain invites its players into an enticing world that is sure to keep your little ones engrossed. Though it's centered around Halloween, this interactive adventure extends beyond mere seasonality, rendering it an all-time favorite.
In a sea (pun intended) of Kids Games, Mermaid Haunted House makes a notable splash. It artfully combines classic themes in its gameplay by appealing to fans of Princess Games, adding a touch of mystery with elements from Monster Games, all while staying rooted to its unique premise making it one of the must-try Mermaid Games.
This engrossing underwater adventure does more than just entertain – it teaches young players about decision-making, creating strategies, and think creatively all while having fun under the sea!
What are the best online games?