Merge Dungeon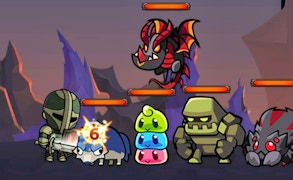 Merge Dungeon
Dive into the thrilling realm of Merge Dungeon, a standout in the landscape of action games that seamlessly blends elements of battle games, sword games, and monster games. This engaging game integrates strategic battles with an intriguing upgrade system, pushing you to conquer adversities and dismantle the looming threats.
In Merge Dungeon, you're not just a spectator but a strategist - leading your soldiers into an unwavering fight for survival. The game is flooded with various kinds of monsters that spring up at every corner, each more formidable than the last. This relentless wave of threats encourages continuous gameplay and is what truly sets this game apart in the array of monster games.
The progression isn't just about defeating monsters, it's also about transforming your warriors into invincible battle machines. One thing that makes Merge Dungeon particularly captivating is how it incorporates elements of clicker games, tap games, and even idle games. As your enemies grow in strength and numbers, upgrading your warriors' equipment becomes crucial in securing victory. In every epic clash, your fingers are not merely tapping but strategically directing the battlefield's fate.
Last but certainly not least, Merge Dungeon doesn't lack those heart-racing boss fights we all crave. The culmination of each level is a monumental showdown against a boss monster designed to test your endurance and strategy to the limits. The constant momentum keeps you invested from start to finish – making Merge Dungeon an unforgettable ride for any action game enthusiast.
In conclusion, if you're craving an engaging blend of strategy and action with satisfying progression, look no further than Merge Dungeon. With its perfect amalgamation of battle and monster themes alongside its unique idle clicker-tap mechanics, it stands out as a must-play in the action genre.
What are the best online games?