Merge Car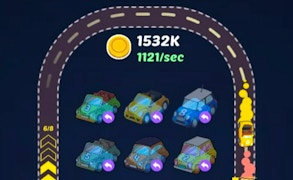 Merge Car
Welcome fellow gamers to our latest review of the captivating and adrenaline-fuelled Merge Car game. This exhilarating experience, which flawlessly combines elements of clicker games, and car games, while delivering the convenience of an idle game, is the ultimate action-packed adventure that keeps you at the edge of your seat.
The first thing that jumps out in Merge Car is its fun gameplay. It breathes new life into the car gaming genre, providing an engaging and rewarding experience that will leave you hooked. Make no mistake; this is not your average car game. It blends action, strategy and luck in a seamless manner, keeping you engrossed minute after minute.
A spin on its unique Lucky Wheel introduces an element of chance, adding another layer to its already multifaceted gameplay. Every spin brings a new opportunity or challenge, making every gaming session distinct and unforgettable.
Merge Car doesn't just stop there. Its feature of upgradeable cars gives gamers an exciting progression path. With every upgrade, your car becomes faster, sleeker and stronger, giving you power over your gaming experience like never before.
Furthermore, with the incorporation of Different quests, Merge Car goes beyond idle clicker games by providing a mission-driven narrative that adds depth to your gaming experience. Accomplishing these quests not only boosts your score but makes for a deeply satisfying journey.
In a nutshell, Merge Car has ingeniously combined aspects from several gaming genres to create something truly unique. It's an engaging ride for action fans looking for a different kind of car game or clicker enthusiasts seeking new adventures. Whether you're into idle games or just enjoy upgrading virtual cars, Merge Car is sure to deliver an unforgettable gaming experience.
What are the best online games?