Medieval Farms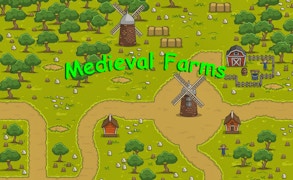 Medieval Farms
Description
Immerse yourself in the charming world of Medieval Farms, a delightful pixel-art game with a casual, relaxing gameplay. Engage in the joys of medieval farming, where managing land isn't just about growing crops. You'll also get to raise livestock, run orchards, manage vineyards and much more. The game's simplicity is designed for a mobile-friendly experience across all devices.
How to play
The game is predominantly touch-based, making it perfect for mobile gamers. Tap to select and manage your crops and livestock. Expand your farm by planting new crops or adding new animals. There's also the option to build infrastructure like barns and silos to support your farming activities. Progress in the game by enhancing your farm's productivity and prosperity.
Tips and Tricks
Don't focus only on one aspect of farming. Diversify your activities - grow different types of crops, raise various breeds of livestock and expand into new areas like orchards or vineyards. Efficient management of resources can accelerate the growth of your farm, ensuring you progress faster.
Features
Retro-style pixel art graphics giving a nostalgic feel.
Variety of crops, animals, and infrastructure to add to your farm.
Casual gameplay suitable for short bursts or extended sessions.
Fully optimised for mobile devices.
What are the best online games?