Medieval Battle 2P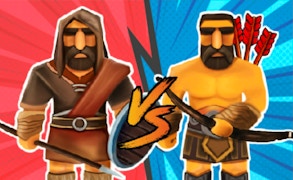 Medieval Battle 2P
Embark on an epic journey to the brutal battlefields of the medieval era with the immersive Medieval Battle 2P. This battle simulator engulfs you in medieval warfare, where might, wits, and strategy are your only means to victory. Weaving the tales of valiant warriors and cunning strategies, this gem among battle games will keep you on the edge of your seat.
The primary allure of Medieval Battle 2P lies in its versatility. The unique combination of sword games and archery games introduces numerous layers of complexity and excitement. It's not just about raw strength here; a keen eye and precise aim can turn the tides of war – ensuring endless hours of gripping gameplay.
The game shines even brighter with its multiplayer feature. Truly a standout among 2 player games, Medieval Battle 2P lets you fight ferocious battles with friends or engage in solo conquests against formidable AI opponents. It doesn't isolate those who prefer to go rogue or those who revel in cooperative play - there's something for every warrior here.
The intricate battle strategies required elevate this game among other simulator games. Every decision matters, every move can be decisive. As one of the more strategically driven war games, it's about more than just carnage - it's about triumphing over adversity through strategy and valor.
In summary, Medieval Battle 2P is a harmonious blend of action, strategy, and multiplayer fun. It's a masterstroke within battle games that captivates players with its engaging combat system, strategic depth, and multiplayer options. If you're a fan of archery games, sword games, or simply thrill-filled 2 player games - do not miss out on Medieval Battle 2P.
What are the best online games?