Medical Shop - Cash Register Drug Store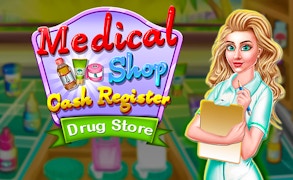 Medical Shop - Cash Register Drug Store
Description
Welcome to Medical Shop - Cash Register Drug Store, a strategy game that places you in charge of a bustling pharmacy. As the manager, your task is to efficiently run the store by dispensing the right medicines to patients and collecting payments. The game features a variety of medicines for different ailments, and advancing in the game allows you to upgrade the quality of these medicines. The management of this drugstore is sure to keep you engaged!
How to play
The controls of the game are simple - select the required medicine and give it to the customer. Be careful, you have to provide exact prescribed medicine as per each patient's illness. Payments are collected automatically as customers leave. Earn more coins by selling higher-quality medicines and use these profits to upgrade your stock. As you progress, new medicines are unlocked offering greater challenges and rewards.
Tips and Tricks
Efficiency in Medical Shop - Cash Register Drug Store is crucial! Prioritize unlocking high-demand medicines early on for higher profitability. Always keep an eye on your stock levels and ensure they don't run out. Remember, time management is key - serve your customers quickly to keep them happy and earn additional tips.
Features
Engaging strategy gameplay mechanics
Variety of different ailment-specific medications
Upgrade system for better-quality medicines
In-game progression with new drugs becoming available over time
Addictive time management elements
What are the best online games?