MAX AXE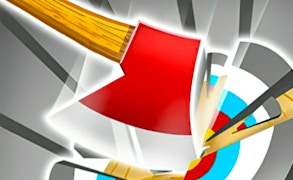 MAX AXE
If you're a fan of sword games, archery games, or any other type of skill games, then you are in for a treat! I am about to share my experience with a game that redefines the action genre - MAX AXE. This high-octane, axe-throwing extravaganza is sure to keep you on the edge of your seat!
With MAX AXE, your primary mission is simple – grab your axe and aim it at the bull's-eye. Believe me when I say; this seemingly straightforward task is anything but easy. The concept may sound basic, but the skill and strategy needed to achieve high scores are what elevates MAX AXE beyond typical action games.
The scoring mechanism is thrilling; the higher you score, the more bountiful your corresponding rewards. For every checkpoint you pass, your weaponry arsenal expands, keeping things intriguing and fresh. This fascinating progression system urges us to keep playing, unlocking new weapons with each level, adding a certain thrill to this sword game.
Weaving through different checkpoints is not just about unlocking more interesting ways to play; it's a test of mettle and strategy that sets MAX AXE apart from other similar archery games. It takes a game focused on dexterity and enhances it with an undeniable touch of strategy.
The beauty of MAX AXE lies in its simplicity and depth – a dichotomy that makes it both easy to play and hard to master. With each throw of an axe comes a surge of exhilaration and suspense, creating an addictive gameplay loop that keeps players coming back for more.
If there's one thing I can assure you, it's that once you start playing MAX AXE, putting down your digital axe will be harder than hitting any bull's-eye! So if you're up for an action-packed adventure filled with lots of tossing axes, join me in experiencing what could be hailed as the epitome of all skill games.
What are the best online games?