Master Thief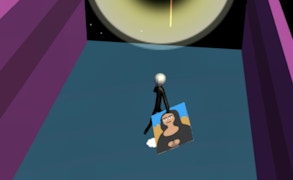 Master Thief
Embark on an adrenaline-pumping journey into the dark underbelly of the crime world in Master Thief, a standout entry in the action-packed arena of gangster games. This immersive escape game plunges you into an electrifying cat-and-mouse chase as you step into the stealthy shoes of a skilled criminal, tasked with swiping priceless art masterpieces. With tension creeping up at every corner and the relentless police on your tail, Master Thief really raises the bar for police games.
Featuring a cautiously constructed 3D environment, each level offers a unique challenge that will test your quick-thinking skills and strategic finesse. The game rules are simple: approach each valuable painting slowly, grab it without attracting attention, and then make your daring escape. But beware; although it may sound like an easy task, dodging the sharp-eyed police officers through this labyrinth of danger takes more than luck - it requires skill.
In terms of longevity and replayability, Master Thief stands tall among other escape games. Its multitude of levels offers diverse challenges that continuously keep you on edge. Coupled with its gripping storyline and high-quality graphics, Master Thief provides an engaging gaming experience that keeps you coming back for more.
The appeal of Master Thief lies not just in its thrilling gameplay but also in its ability to draw players into its world. Whether you're a seasoned gamer seeking your next challenge or simply a fan of action-packed gangster or police games wanting to test your mettle against the most vigilant law enforcement officers – this game is for you. Have a great time with Master Thief; see how many levels you can conquer and don't forget - be stealthy or be caught!
What are the best online games?