Lucky vs Lou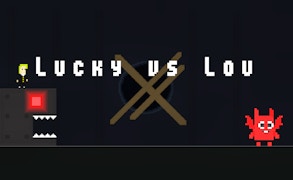 Lucky vs Lou
Description
Engage in a thrilling adventure with Lucky vs Lou, a captivating pixel game. An evil toy named Lou has activated a giant toy-smashing machine and Lucky, a small red bat toy, must evade capture and rescue his friends. Despite being unable to fly, Lucky's agility and courage lead him on an epic quest to secure the golden key needed to save his fellow toys.
How to Play
To control Lucky's movements, use the WASD or Arrow Keys on your keyboard. If you're playing on mobile, simply use the Touch Control feature. The game allows you to perform a double jump, crucial for overcoming treacherous obstacles. Your ultimate goal is to find and retrieve the golden key.
Tips and Tricks
Time your double jumps accurately — they can be lifesavers when faced with larger hurdles. Stay alert of your surroundings as you never know what dangers may emerge around the corner. Always remember that persistence is key in this thrilling escape game.
Features
Vibrant pixel-art graphics that captivate players' attention.
A hauntingly enthralling storyline with fascinating characters.
User-friendly controls effective for both desktop and mobile users.
Tactical gameplay involving strategical movement and timely jumps.
What are the best online games?