Lord Of The Knights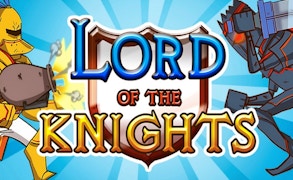 Lord Of The Knights
Immerse yourself in the electrifying realm of Lord Of The Knights, an action-packed plunge into a world where every bowstring's twang and the clash of every sword resonates with your gaming spirit. As a riveting blend of archery games, sword games, and battle games, it dares you to step into the boots of a valiant lord, brave and ready to risk everything for his subjects and his castle.
The game begins with you donning your robust armor and gripping your powerful crossbow, geared to face an impending onslaught. Skeleton warriors, relentless in their pursuit, inch closer in hordes, their numbers looming like a dark cloud on the horizon. It's thrilling, it's nerve-wracking - it's an adrenaline-infused spectacle that will have you at the edge of your gaming chair.
Lord Of The Knights takes pride in its rich, immersive tactility. Each squeeze of your crossbow's trigger sends chills down your spine as you punctuate the silence with eruptions of combative exclamations. The swordplay isn't just about mindless slashing - it's a dance between danger and dexterity, each swipe a testament to your strategic prowess on this digital battlefield.
The visuals perfectly capture the grim, eerie atmosphere – making every skeleton warrior encounter even more intimidating. But fear not, for as the Lord protected by his stout armor and legions of brave soldiers at his command – victory is within grasp!
In conclusion, whether you're an avid fan of archery games or love indulging in nail-biting sword games — or perhaps both — Lord Of The Knights is sure to satisfy your thirst for epic battle games. So brace yourself for an unforgettable odyssey that pushes action gaming boundaries while delivering buckets full of fun!
What are the best online games?