Look for boss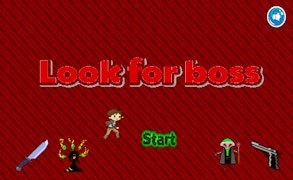 Look for boss
Description
Embark on an adrenaline-loaded mission in Search The Boss. This is not just a gun game, it's a high-paced adventure through varying levels filled with monsters. Your mission? Hunt down and eliminate the boss. With retro-style pixelated graphics, heart-pounding action, and thrilling shoot-outs, Search The Boss offers an unforgettable gaming experience for those with nerves of steel.
How to Play
The game controls are wholly intuitive - simply navigate with the arrow keys, and use your mouse to aim and shoot. Progression is very much level-based; each level completed brings you one step closer to the boss. Remember: survival depends on your skills to dodge enemy fire and effectively retaliate.
Tips and Tricks
As a beginner, don't rush headlong into danger; instead, master evasion tactics alongside shooting. Boss enemies often have predictable patterns; identifying these can be the key to victory. Begin attacks only after reloading to avoid running out of ammo mid-battle.
Features
Vintage pixel-art graphics that will take you back to the golden age of video games.
A tough-as-nails battle system that requires swift reflexes and strategic thinking.
Diverse monster-enemies, each requiring different strategies to defeat.
Intricate levels, each providing its own unique challenges and obstacles.
What are the best online games?