Locoman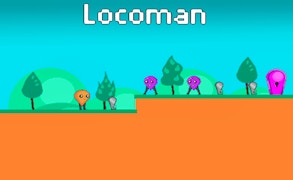 Locoman
Description
In the 2D arcade game Locoman, you need agility and strategy to navigate through challenging environments. Your mission is to collect all the silver keys scattered across each level while dodging spikes and enemies. As you advance, the difficulty intensifies, pushing your skills to the limit. With 8 diverse levels to conquer, this platformer offers hours of engaging gameplay.
How to play
The controls for Locoman are simple but mastery will take time. Use the "WASD" or "Arrow" keys for movement and navigation around obstacles. For added mobility, utilize the double jump feature by pressing "W" or "Up" arrow twice consecutively. Solving each level requires reaching the exit door with all silver keys collected.
Tips and Tricks
Avoid rushing through levels as this can lead to unnecessary collisions with spikes or enemies. Learn to master the double jump functionality as it's crucial for overcoming higher obstacles or escaping enemy attacks. Remember, some keys might be hidden in tricky spots so keep a keen eye on every corner of the level.
Features
Straightforward controls: Easy to learn but hard to master.
Diverse Levels: 8 entertaining levels with increasing difficulty.
Cunning Enemies: Avoid a variety of challenging enemies and obstacles.
Mind-Engaging: Requires strategic movement and quick reflexes.
What are the best online games?