Littleyellowman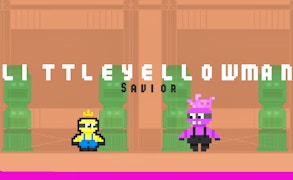 Littleyellowman
Description
Step into the shoes of a cheeky, spirited Littleyellowman on an exciting escape adventure. In a world taken over by purple monsters, you must rescue your friends and collect precious coins while avoiding the deadly purple poison. This rising venom has the power to transform you into a purple monster, an outcome you must desperately prevent to win this riveting pixel game.
How to Play
Navigate through this captivating escape game using keyboard controls. The arrow keys or WASD will move your character across the pixelated terrain. As you make your way through each level, use strategy and precision to avoid contact with the toxic purple poison. Remember, your mission is not only to escape but also to free your captured friends and gather as many coins as possible.
Tips and Tricks
Maintain constant vigilance! The purple poison rises unpredictably from below, so always be prepared for sudden shifts in the terrain. Be strategic in freeing your friends; they might have vital information that can help you avoid becoming a purple monster. Prioritize coin collection when safe but never at the expense of survival.
Features
A thrilling escape adventure set in a vibrant pixelated world.
An engaging story about friendship and courage.
Diverse levels that challenge your strategizing skills.
An immersive gameplay experience with unique monster-transforming mechanics.
A coin collection aspect providing added complexity.
What are the best online games?